KEEP OFFICE SIGNS & EMPLOYEE CERTIFICATIONS PROTECTED WITH PLASTIC SLEEVES
8.5x11 DocU-Sleeves are perfect for all of your signage needs. If the information needs to be visible, put it in a DocU-Sleeve! Our DocU-Sleeves are helpful multi-purpose document protectors to keep all your essential paperwork safe. Not quite as rigid as an acrylic frame but not as flimsy as modern page protectors, these helpful plastic sleeves for paper are light, affordable, and reusable! No matter the occasion or how you wish to display the paper being inserted into our sleeves (portrait or landscape), you'll find these DocU-Sleeves are versatile products that every workplace should have on hand.
DOCU-SLEEVE FEATURES:
These ready-to-post plastic sleeves will keep your important information readily available (and tidy).
Measure 8.5"x11"
Slim & Lightweight
Low-Cost
Easy to Use & Reuse
Crystal Clear!
Neat! Fingerprint-resistant!
Hang 'em Anywhere without damaging walls (even in fabric cubicles)
Perfect certificate holder or frame, or great for posting job aids
EXPLORE SO MANY WAYS TO USE DOCUMENT PROTECTORS
Room assignments
Job aids and phone lists
Awards, certificates, and photos
Critical reminders and cheat sheets
Inspirational posters
VIEW VIDEO DEMO BELOW
SEE DOCUMENT PROTECTORS UP CLOSE
This model of the Docu-Sleeve -- #8.5x11Q -- has a slim 1/4" border on 3 sides of the frame. See closeup of edges.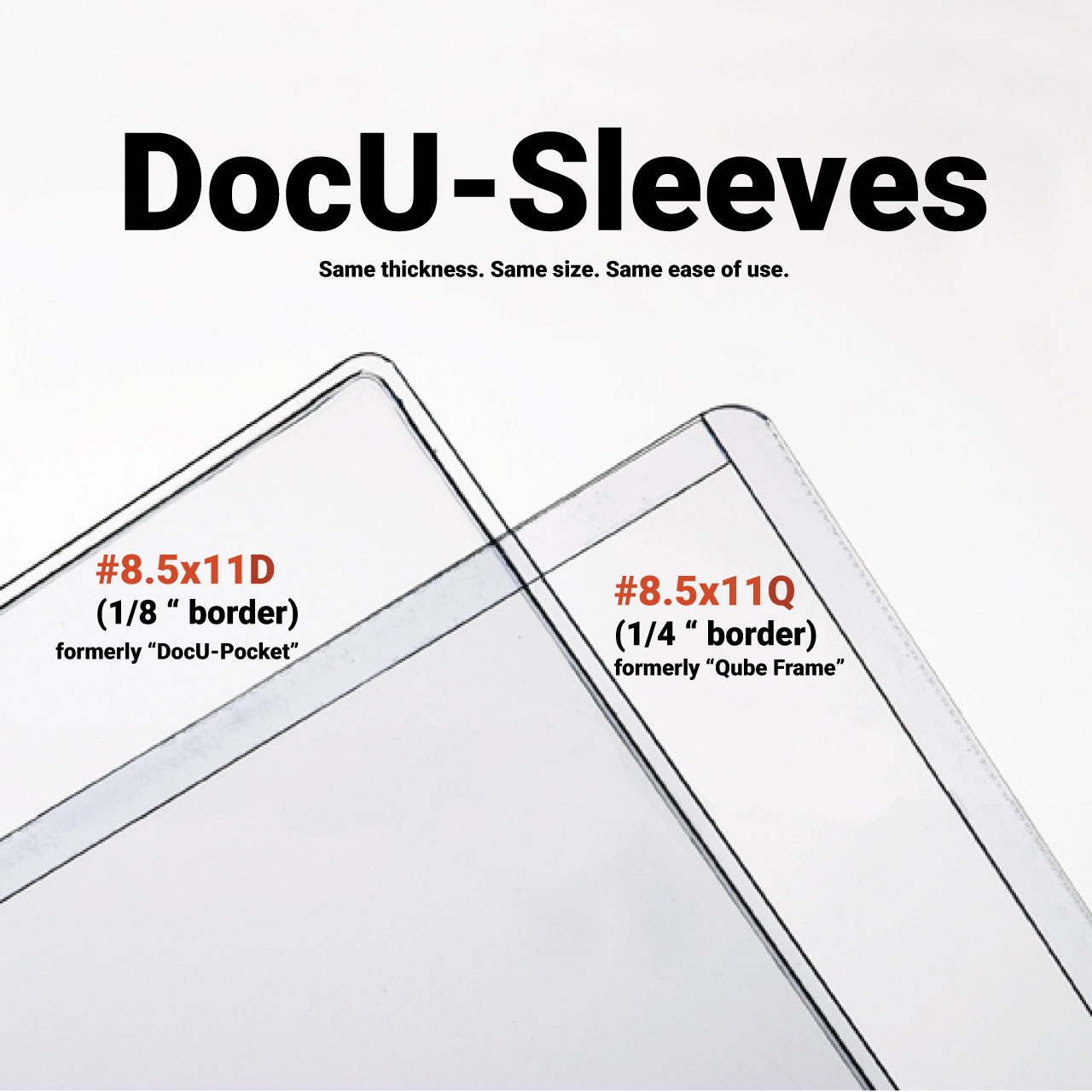 BACKING INFORMATION
DocU-Sleeves can be ordered with NO BACKING or with your CHOICE OF BACKING, INCLUDED FREE OF CHARGE.
** TIPS **
There are literally hundreds of uses for our plastic sleeves. We see them in use for certificates, job aids, real estate listings, checklists, and evacuation signs, to name just a few.
No matter how you use DocU-Sleeves, here are just a few tips:
ORIENTATION

You can put sheets in vertically or horizontally (portrait or landscape).
For vertical use, we recommend leaving the opening at the top, unless it's posted outside and you want to protect your document from water. Even if the opening is at the bottom, your document is unlikely to slide out.

BACKINGS

VELCO/OMNI - If you're not sure whether a recipient will use the document protectors on a plaster or fabric wall, choose the VELCRO/OMNI backing, so that they can use it on either surface.
OMNI - the gentle adhesive will not harm painted walls.
MAGNETS - these are best used for metal surfaces like file cabinets. They are light-weight magnets so if you stuff too many sheets in the plastic sleeves, it might be too heavy and slide down.
CONVENIENCE: We send the DocU-Sleeves with backings already attached.
EASEL: If you don't have wall space, but want a DocU-Sleeve to stand on a desk, ask us about Easel Backs.

SIZES

OPTIONS: Find the size that's perfect for your document. So many sizes are available: 3.5 x 5 / 4 x 6 / 5 x 7 / 8 x 10 / 8.5 x 11 / 8.5 x 14 / 11 x 17 / 18 x 24 / 22 x 28 / 27 x 34

APPLICATIONS

LAMINATION: Use these plastic sleeves for paper in lieu of lamination.
DRY-ERASE: Put a blank sheet of paper inside (or some sort of worksheet, chart or form), then use dry-erase markers on the document protectors. You'll see they wipe clean nicely. Plus, you can slide in colored paper, worksheets, and forms.

LONG LIFE

Slide sheets in and out as often as you need. They're not flimsy and so they'll stand up well to lots of transitions.
If using

OMNI tabs, the adhesive may lessen if you take them up and down frequently, but feel free to get a bigger backup supply of

OMNI TABS!
DocU-Sleeves placed in direct sunlight or in very bright areas may yellow over time.
Are these plastic sleeves recyclable? Not at this time, but we're working on it!
FIND DOCU-SLEEVES, SIGNAGE, & MORE
Trainers Warehouse is your go-to resource for all the fun, innovative, and effective tools you need to become a better trainer. From DocU-Sleeves and other plastic sleeves to reward your employees, to our expansive trainer library, you'll find everything you need to keep employees energized, engaged, and excited about your workplace. Shop with Trainers Warehouse and tap into our huge inventory of products designed exclusively by and for trainers. Purchase in bulk and $ave! Feel confident about any purchase! We guarantee satisfaction 100%. Period!
Still not sure? Click here to read customer reviews and learn more about DocU-Sleeves.